My Books
Code Name: Ghost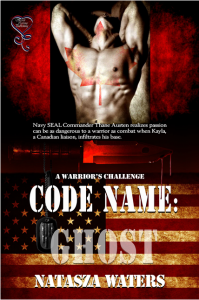 Available at these links:
Amazon.ca
Amazon.com
Amazon.co.uk
Amazon Australia
Chapters/Indigo
Kobo
Smashwords
Bookstrand
All Romance Books
iTunes
B&Noble
Kayla is intent on leaving her past north of the border. Hired as a Canadian liaison by the US Navy, she finds the Coronado SEALs tough but amiable. Their Commander is another matter. With eyes like blue steel and a body carved from it, Kayla resists the hungry attraction between them for good reason.
Navy SEAL Commander Thane Austen (Ghost) treats his women like his missions: in, out and gone. Returning from deployment to find Kayla is his new tactical specialist poses a challenge, one he's never faced. When the defiant beauty with haunted eyes becomes a serial killer's target, the Commander has the excuse he needs to close ranks around her. Fear is a word unknown to the legendary SEAL until he realizes love can be as dangerous to a warrior as combat. Convincing Kayla to surrender to him and catching a killer is a mission he won't fail.

Bridging Chapters between Code Name Ghost, and Code Name Kayla's Fire

Code Name: Kayla's Fire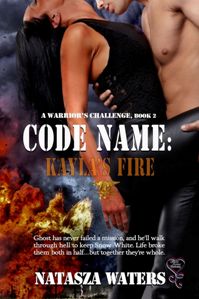 Available at these links:
Amazon.com
Amazon.ca
Amazon.co.uk
Amazon Australia
Chapters/Indigo
Kobo
Smashwords
Siren Bookstrand
All Romance Books
iTunes
B&Noble
Kayla stands in the eye of a hurricane. Past and present are on a collision course, and her tactical experience won't save her. She's the target on a serial killer's radar. The media brews a storm of confusion, pointing at the warriors stationed at Coronado. To catch the killer, she has to relinquish hope, and the Navy SEAL protecting her.
Navy SEAL Thane (Ghost) Austen is forced to choose between Kayla and his duty. If he deploys, she'll die. If she returns to Canada, he'll lose the woman who cracked his armor, and exposed his heart. Her abusive past is holding her hostage. There's two battles to be won: to light Kayla's Fire and extinguish the Shark's. Life broke them both in half, but together they're whole, and he'll walk through hell to keep her. The conclusion to Ghost and Snow White's fight to survive in, "A Warriors Challenge" series.
Code Name: Kayla's Fire Cover Reveal video
Code Name: Kayla's Fire Prologue video

Code Name: Nina's Choice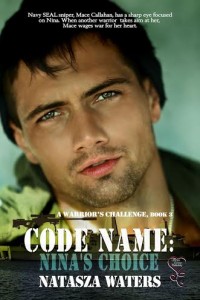 Available at these links:

Amazon.com
Amazon.ca
Amazon.co.uk
Amazon.com.au
Kobo
Smashwords
Siren Bookstrand
All Romance E-books
iTunes
B&N
Nina Samson, an analyst working at Coronado Base Command, lands in Navy sniper Mace Callahan's lap like an I.E.D. Two weeks of fiery passion with the lithe redhead, and the self-proclaimed bachelor raises the white flag.
Arriving in San Diego, Nina, a single mother with an eight-year-old daughter, spots danger ahead. Mace's Hollywood goods looks and wicked smile makes her heart run a zip-line of crazy. Lust for the sexy SEAL swiftly turns to fear when he deploys to Syria for a mission.
Mace returns home angry. Believing his injury destroys their future, unable to pleasure any woman, especially one like Nina, he tries to sever their relationship. She deflects every round Mace fires at her heart, determination controlling the helm. Just as the seas calm, fate advances. Another warrior sets his sights on her. Mace will wage war for her heart, but it's "Nina's Choice".

Code Name: Luminous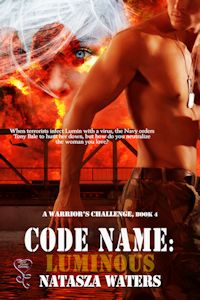 Available at these links:
Amazon.ca
Amazon.com
Amazon.co.uk
Amazon Australia
Chapters/Indigo
Kobo
Smashwords
Bookstrand
All Romance Books
iBooks
B&Noble
The mission is hot!
When Lumin wakes up next to a dead scientist, she calls the only Navy SEAL she knows. Tony Bale must stop a deadly virus before it's launched on the United States, and resist an undefeatable desire to take Lumin's innocence. Mission success probability: slim.

Code Name: Forever & Ever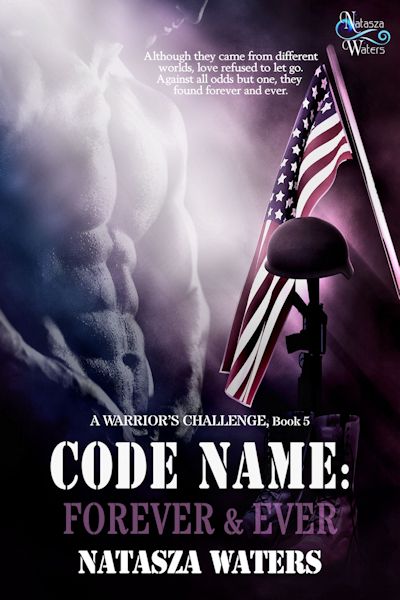 Available at these links:

Amazon.com
Amazon.ca
Amazon.co.uk
Amazon.com.au
Book five in the award-winning military romance series, A Warrior's Challenge.
When an Ivy League girl falls for a guy from the wrong side of the tracks, all the cards are stacked against them except one.
Patrick Cobbs has just graduated his BUD/S training. He's the last guy Marg Stines' anti-military parents want for their daughter. With her grandfather's name etched on the Wall of the Fallen, Marg's father will do anything to keep them apart. Pat's father is a drunk; his family is poor. He has nothing to offer Marg except the man he wants to become. Only one person believes in them, and he's dead.

Code Name: Redemption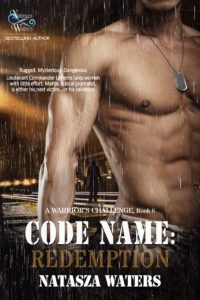 Available at these links:
Amazon.com
Amazon.ca
Amazon.co.uk
Amazon Australia
Chapters/Indigo
Kobo
iBooks
B&Noble
Lieutenant Commander Greg LaPierre, a Special Forces Operator, returns home after a seven-month deployment. He wants to shake combat from his back, but only days after his arrival the police accuse him of murder.
Someone is slaughtering women and leaving them at historic locations in the emerald city of Victoria. Whispers of Whitechapel drape the cobblestone streets with fear. Mattie Bidault, a local journalist, has been following the case from the beginning, and Greg is either innocent or she's falling for the deadliest serial killer since Jack the Ripper.

Stand Alone Books
Too Grand For Words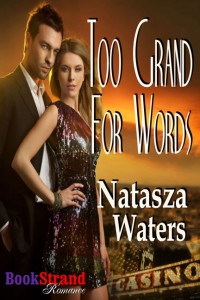 Available at:
Amazon.com
Amazon.ca
Amazon.co.uk
Chapters/Indigo
Kobo
Bookstrand
B&Noble
Steven Porter's successes are as rugged and powerful as he is. He owns Hollywood, but no woman has ever owned him. During a business trip to Las Vegas, he becomes lost in Moira's siren eyes. It's going to take an ocean full of seduction to get her to see his way.
Moira Viterra is a matriarch of the sea. Working with ship captains and gnarly mariners, she won't let any man command her. But she can't control the forces that keep her a recluse.
An evening that begins with sizzling glances across a blackjack table ignites the heat in Steven enough to know Poseidon's daughter is different. Synchronicity and irony join hands to box him into a corner as Steven tries to conceal his identity. when he finds out Moira's hiding her own secret, he's faced with a decision that endangers his life, not just his heart.

His Perfect Imperfection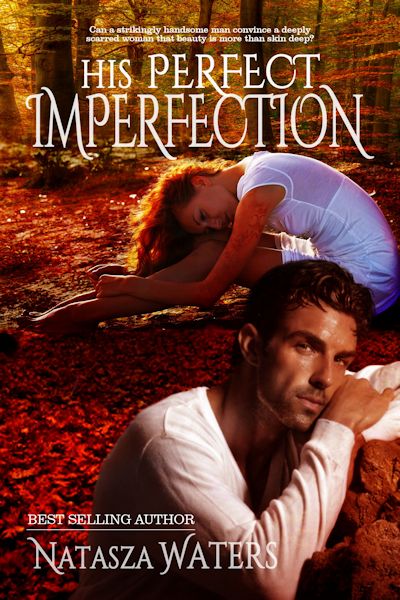 Available at:
Amazon.com
Amazon.ca
Amazon.co.uk
Amazon Australia
Mika rents a quaint cottage on a seaside estate. With a group of amazing friends and her disease in remission, she's happy. In a world spellbound by beauty, she hides the scars of her disorder beneath baggy clothes. Perched on the cliff, her mysterious landlord lives alone in a stately glass house, although his home is transparent, there's no penetrating the blue abyss of Cain's eyes or the coldness of the striking man who disappears for days at a time.
Women are Cain's business. The fantasy he sells has made him a wealthy but empty man. Within a short time, he's lured by Mika's beguiling spirit. When life cracks its whip at her, he's there to catch her. Discovering her secret, he teaches her passion, but it's her love he desires, not her flesh. To keep her, he'll have to confess his past sins and convince her that beauty is more than skin deep.

Twila's Tempest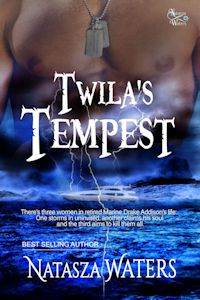 Available at these links:
Amazon.ca
Amazon.com
Amazon.co.uk
Amazon Australia
Drake Addison, retired Marine, understands the dangers of the sea, but there's a storm coming, and she's all of five foot three.
A dark horse among the Treasure Coast's elite, Drake's passion and wealth tempt him. His first love is building yachts. Meeting Twila, he sees she has a passion as well—caring for the elderly, including his parents, but she's trapped.
Like unearthing a gold doubloon, with one kiss from Twila, he craves a thousand. He makes an excuse to remain in Port St. Lucie and teach Twila about the sea. His mistake: misjudging the heart of one woman, the soul of another, and the ferocity of the one headed their way.
Sometimes, a little knowledge is dangerous, but for Twila—it's deadly.
A standalone romantic adventure.

SEALed With A Weekend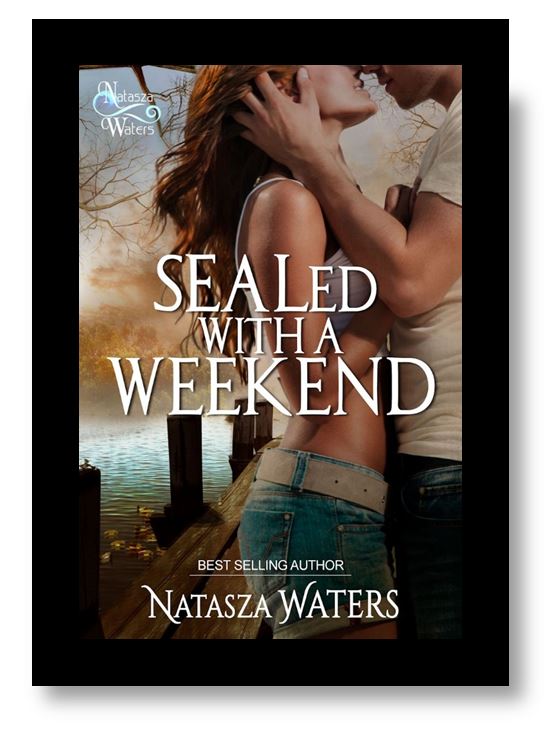 Available at these links:
Amazon.ca
Amazon.com
Amazon.co.uk
Amazon Australia
Vanessa Langara is the Chief Editor of Luna magazine. Pitching an idea for an article, her staff breaks new ground by inviting a team of Navy SEALS to participate in a blind date weekend. A call to N.A.B Coronado and a terse conversation with Lt. Seth McKnight, who makes it clear love is ridiculous but agrees to the exercise, she prays the girls won't be canoeing back from the San Diego high country if they're all like him.
Seth doesn't believe in forever. With one divorce under his belt, women are the enemy. He wants to annihilate his best friend who tricks him into the weekend fling in the woods, but seeing Vanessa, there's enough spark to start a forest fire. When a motorcycle gang rolls in, the women witness why SEALs are considered an elite force of warriors.

Montana Freedom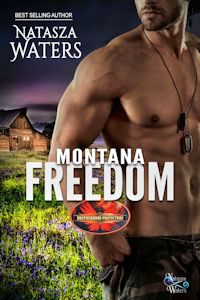 Available at this link:
Amazon.com

It's spring in Eagle Rock, Montana. The owners of the Bluebell Ranch, Tania Dougherty and her sister Samantha, a recently retired Army nurse, are ready for a busy season. When accidents start happening back to back at the ranch, bad luck looks more like foul play.
Cory McGregory, a new member of the Brotherhood Protectors Agency, is enlisted to prevent any further incidents. As a retired Delta Force operator, he's prepared for his mission. When he meets Samantha, he reins in his wild attraction, unsure whether he should tell her that the friend he lost in combat ten years ago is the same man who wanted to marry her but never got the chance. Cory vows to find out who's causing trouble, but he can't promise that business will come before pleasure.